Tiffany Hendricks attends 89th Convention of the National Bar Association
The 89th Annual Convention of the National Bar Association (NBA) was held July 25-August 1, 2014 in Atlanta, GA.   This year's theme was "Standing Our Ground for Justice."     Dozens of seminars were conducted including topics ranging from energy and environmental law to "IP Considerations in Emerging Media and Promotions."   The event was well attended and its programming was relevant to the current demands of the legal profession.   Attorney Benjamin Crump of Florida, whose law firm gained national attention for their representation of the family of Trayvon Martin, was voted President-Elect of the organization.   The success of this year's convention continues the NBA tradition of leadership and excellence in the law.  Kudos to the NBA for a job well done!
About the National Bar Association
Founded in 1925, the National Bar Association is the nation's oldest and largest national association of predominately African-American lawyers and judges. Currently, there are 84 affiliate chapters throughout the United States, including affiliations in Canada, the United Kingdom, Africa and the Caribbean.  The NBA represents a professional network of over 20,000 lawyers, judges, educators and law students.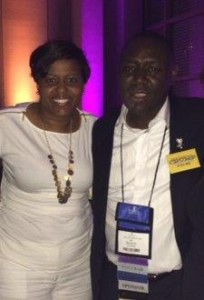 Tiffany Hendricks and Ben Crump, President-Elect of the NBA, attend the NBA President's Reception