Sowell Gray Robinson attorneys write new book on legal malpractice in SC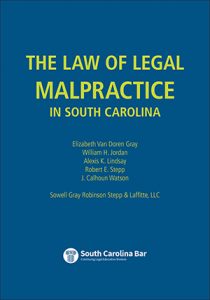 COLUMBIA, S.C. – Five Sowell Gray Robinson attorneys have collaborated to write a new book on legal malpractice in the Palmetto State.
The authors of The Law of Legal Malpractice in South Carolina are Betsy Gray, Will Jordan, Alexis Lindsay, Bobby Stepp and Cal Watson.
South Carolina courts have recognized a client's right to bring a malpractice charge against his attorney since at least the mid-19th century. Since then, there have been many significant developments in this area in the state – with a lot of those changes occurring in the last 20 years.
This book's 11 chapters are intended to serve as a useful and accessible resource for attorneys and insurance professionals in South Carolina.
"Legal malpractice claims – regardless of the perspective – can be complicated," said Cal Watson. "We think our book can be a help in understanding the issues involved."
---
The book can be purchased through the SC Bar.